Vapor Fresh® Home Gym Disinfecting Wipes, 40ct Canisters
SKU:
Protect Your Health.
Protect Your Gym Equipment.

Trusted by top gyms & Fortune 500 companies, now in canisters for studios & home gyms
Vapor Fresh Disinfecting Gym Wipes are EPA registered to kill 99.9% of germs using plant-based citric acid.
Benzalkonium chloride (BZK)
Alkyl dimethyl benzyl ammonium chloride
Didecyl dimethyl ammonium chloride
and more...
Those are quats. Quats have lung, skin & reproductive health concerns.
EPA List N For Coronavirus
Vapor Fresh Disinfecting Gym Wipes are listed on the EPA's List N Disinfectants For Coronavirus. Even with the EPA's safest toxicity rating (Category IV) they disinfect 99.9% of germs including MRSA and Influenza twice as fast as other brands.
Unbeatable value per wipe
Usually you have to pay up for a superior quality, but we believe it's more important to make our disinfecting wipes available to as many people as possible.
Suitable for use on metals, stainless steel, chrome, glass, vinyl, plastic, floors, walls, children's toys, appliances and more.
Our innovative chemistry uses the same citric acid found in plants to disinfect surfaces. These wipes are formulated to have a low enough pH to kill bacteria, fungus & viruses without damaging surfaces. Most importantly, we've done it all without the use of quats found in nearly all other wipes that have lung, eye, skin & reproductive health concerns.
Disinfectants Beat Sanitizers All Day
Contrary to popular belief, disinfectants and sanitizers are completely different products with completely different purposes. Know the difference so you don't waste your money on ineffective products.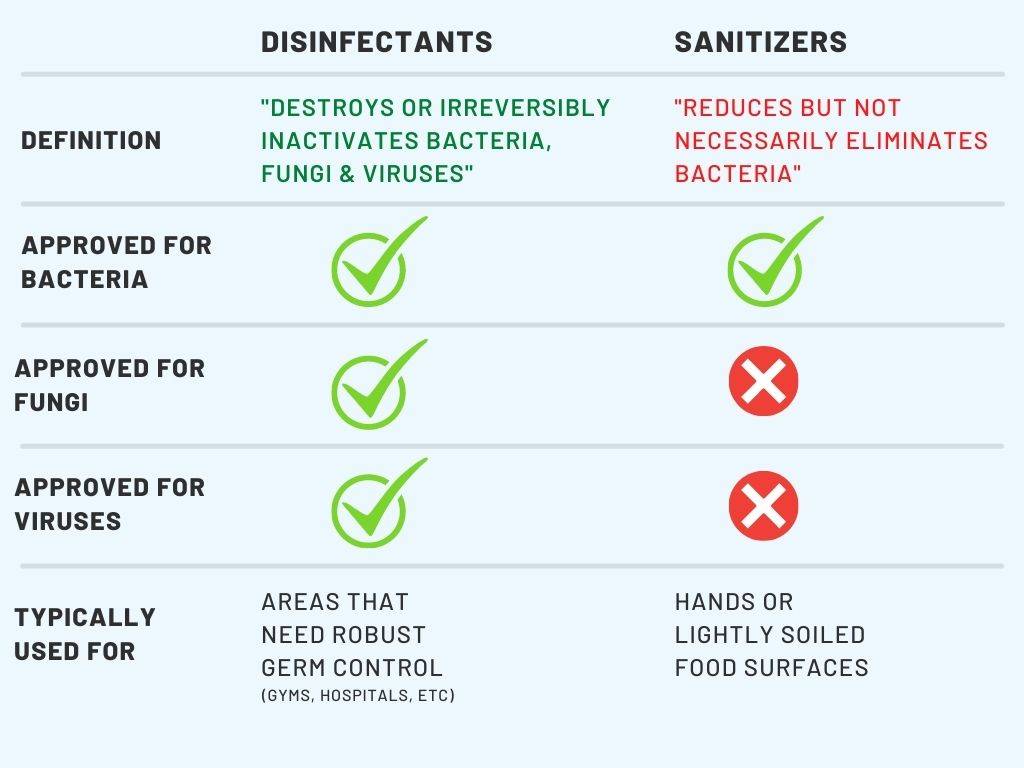 What Drives Vapor Fresh Forward?
Directions For Best Results:
DISPENSER DIRECTIONS: Open lid. Pull out wipe from center of roll and through lid. Close lid to retain moisture.
TO CLEAN / DEODORIZE: Unfold premoistened cloth and wipe area to be cleaned for 30 seconds or until clean.
TO DISINFECT: Use to disinfect hard, nonporous areas. Wipe surface to be disinfected. Allow treated surface to remain visibly wet for 5 minutes. No rinsing or wiping is required except on food contact surfaces which require a potable water rinse after treatment.
FUNGICIDAL DIRECTIONS: This product is effective against Trichophyton interdigitale (athlete's foot fungus and a cause of ringworm) on inanimate surfaces in locker rooms, dressing rooms, exercise facilities, and shower and bath areas. Follow disinfection instructions.
Disinfects 99.9% of bacteria, viruses & fungi including

Methicillin-resistant Staphylococcus aureus (MRSA),
Escherichia coli O157:H7 (E Coli),
Human Immunodeficiency Virus type 1 (HIV-1),
Pandemic 2009 Infuenza A virus (H1N1)
---
Frequently Asked Questions
Are Vapor Fresh® Disinfecting Gym Wipes recyclable?
Absolutely. And unlike all other gym wipes, Vapor Fresh® Gym Wipes will not cause any damage to the local ecosystem when it's disposed of. Other gym wipes contain quats or phenols, which take a long time to degrade and are highly toxic to aquatic life.
Are there bulk discounts for Vapor Fresh® Disinfecting Gym Wipes?
Yes! If you are interested in purchasing 36 cases or more at once, please give us a call at 888-619-0729 or fill out our contact form and we will send you our bulk pricing.
Does Vapor Fresh® Gym Wipes disinfect surfaces and kill bacteria?
Vapor Fresh® Gym Wipes are EPA registered to kill 99.99% of bacteria, fungi, viruses and other germs. This is very different then brands such as Gym Wipes Professional from 2XL Corp, which are only meant to clean debris and sweat from surfaces but not disinfect germs. It's important to keep your members and staff safe from MRSA and other contagious germs by making sure to use an EPA-registered disinfecting gym wipe.
Are Vapor Fresh® Gym Wipes safe to use on all fitness equipment?
Yes! Vapor Fresh® Gym Wipes use citric acid to disinfect, which is less corrosive on fitness equipment than the ammonias and phenols used by other wipe brands. By using Vapor Fresh® Gym Wipes, you won't have to re-upholster your benches and replace treadmill handles as often! Check out our guide to properly maintaining gym equipment for more tips.
Can I buy Vapor Fresh® Gym Wipes through a distributor?
Yes! Please give us a call at 888-619-0729 and we will set you up with a distributor local to you that carries our gym wipes.